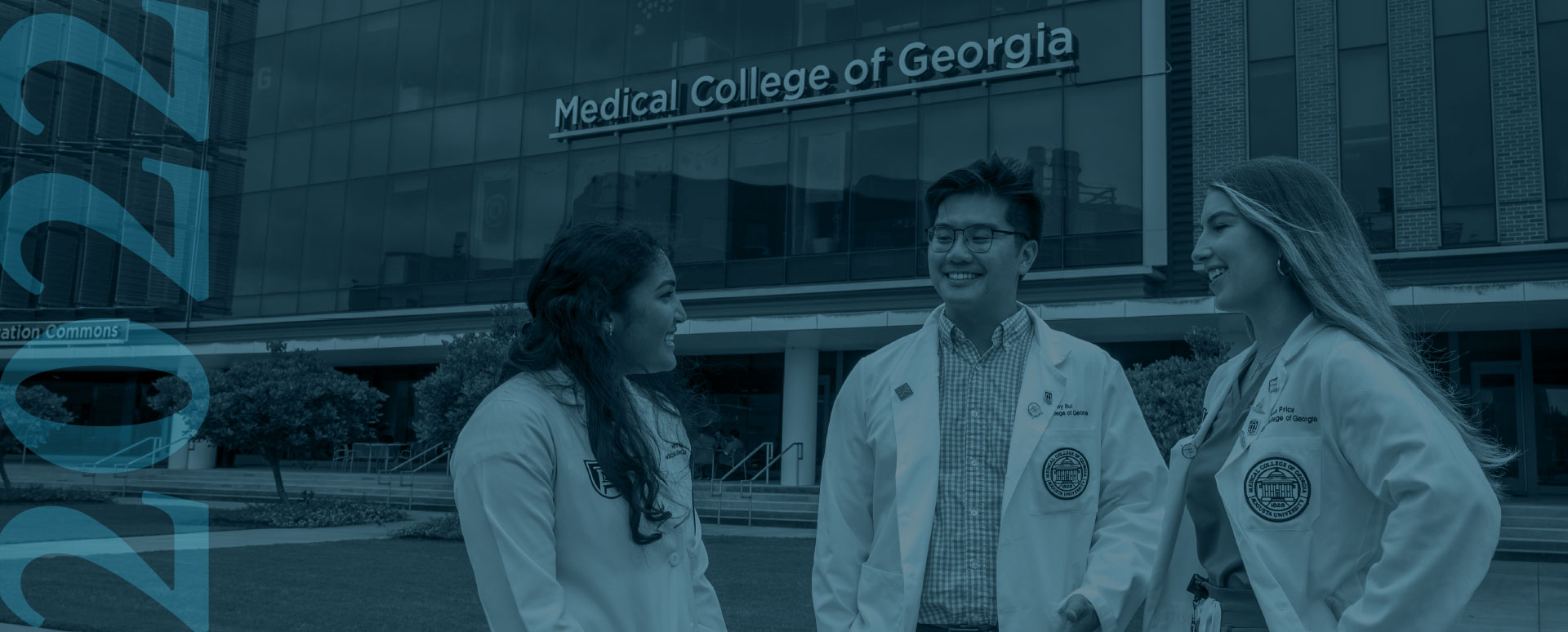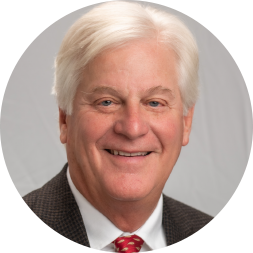 Chairman's Note
BENJAMIN DEAL, DMD ('74)
Chairman of the Board
Serving as board chair of the Medical College of Georgia Foundation over these past four years has been both rewarding and challenging. While my tenure has been punctuated with tremendous change and trials in the local and global health care arenas, the MCG Foundation has remained stalwart with outstanding results.
Examples of how we have thrived include the opening of the HUB for Community Innovation, our strong financial standing, and our commitment to the MCG 3+ program.
Friday, June 24 marked the official ribbon cutting for the HUB and the culmination of several years of planning by the MCG Foundation and its partners: the Community Foundation for the CSRA, the Boys and Girls Club of Greater Augusta and the Augusta National Golf Club.
The pair of new buildings on the site of the old city bus depot property serve as a resource to two important communities in Augusta, Harrisburg and Laney Walker.
The HUB East building serves as the new headquarters of the Boys and Girls Club, and HUB West houses the Augusta University Literacy Center, the Harrisburg Family Healthcare Clinic, Augusta Locally Grown, and RISE Augusta. We anticipate additional growth around the area and expanded opportunities for Augusta University's students and faculty to serve these historic communities.
Despite market fluctuations impacting so many, our financial position remains strong – largely due to our talented staff and the leadership and dedication of our trustees. Our solid financial standing and wise investment of donor gifts enabled the MCG Foundation to designate $8.7 million in foundation funds to match a second state appropriation for the MCG 3+ Primary Care Pathway Program. During the 2022 Georgia legislative session, the General Assembly, with the support of Governor Brian Kemp, allocated $8.7 million in state funding for the MCG 3+ program, bringing the total given to nearly $30 million.
As many of you are aware, the MCG 3+ Program allows students to receive tuition assistance in exchange for committing to primary care practice in rural or underserved areas of the state. These students graduate in three years and immediately enter a residency in Georgia in family medicine, internal medicine, pediatrics, psychiatry, emergency medicine, obstetrics and gynecology, or general surgery to fill current gaps in primary care. We believe this investment reflects MCG's deep and abiding commitment to provide access and quality health care to all Georgia's citizens.
The foundation's strong financial standing also allowed us to create and award six new underserved student scholarships. We awarded five $25,000 renewable scholarships to incoming medical students and one $25,000 renewable scholarship to an incoming dental student – with the board voting to continue the initiative for the 2023 year as well.
As my term as MCG Foundation board chair ends, I would like to convey my sincere appreciation to each of our dedicated trustees, to the foundation staff who supported me tirelessly, and to our visionary leader, Ian Mercier. I am appreciative of the opportunity to have led the MCG Foundation Board of Trustees through such unprecedented times and to have experienced such tremendous success despite many unpredictable challenges. Also, I would be remiss if I did not thank Tim Kearney, chief operating officer/assistant secretary, for his many years of service to the MCG Foundation and congratulate him on his retirement.
I will continue to serve the board as its immediate past chair, having turned over the reins as chair to Charles G. Green, Jr. MD ('74), effective July 1. I am confident Dr. Green will also receive tremendous support from the trustees and staff and that he will serve with integrity and distinction.
Good health to each of you!
2021-2022 Board of Directors
J. Ben Deal, DMD
Chairman of the Board
Charles G. Green Jr., MD
Vice Chair
Sam Richwine Jr., MD
Immediate Past Chair
Lloyd B. Schnuck Jr., MD
Secretary/Treasurer
Buffi G. Boyd, MD
Eileen Brandon****
H. Gordon Davis Jr., MD**
James Davis, MD, FACRa
Richard M. Franza, PhD
Murray A. Freedman, MD
Ellen S. Goodrich, MN, BSN
Don Grantham
Carole M. Hanes, DMD
J . Daniel Hanks Jr., MD**
David C. Hess, MD****
Judith V. Hodnett, MSN, RN
James M. Hull, LHD
Brooks A. Keel, PhD***
Joshua A. Lane, MD
Terri G. Lockhart, MD, FACP
D. Ronald Spearman, MD
Tat Thompson
Cecil F. Whitaker Jr., MD**
**Emeritus
***Ex-Officio Voting
****Ex-Officio Non-voting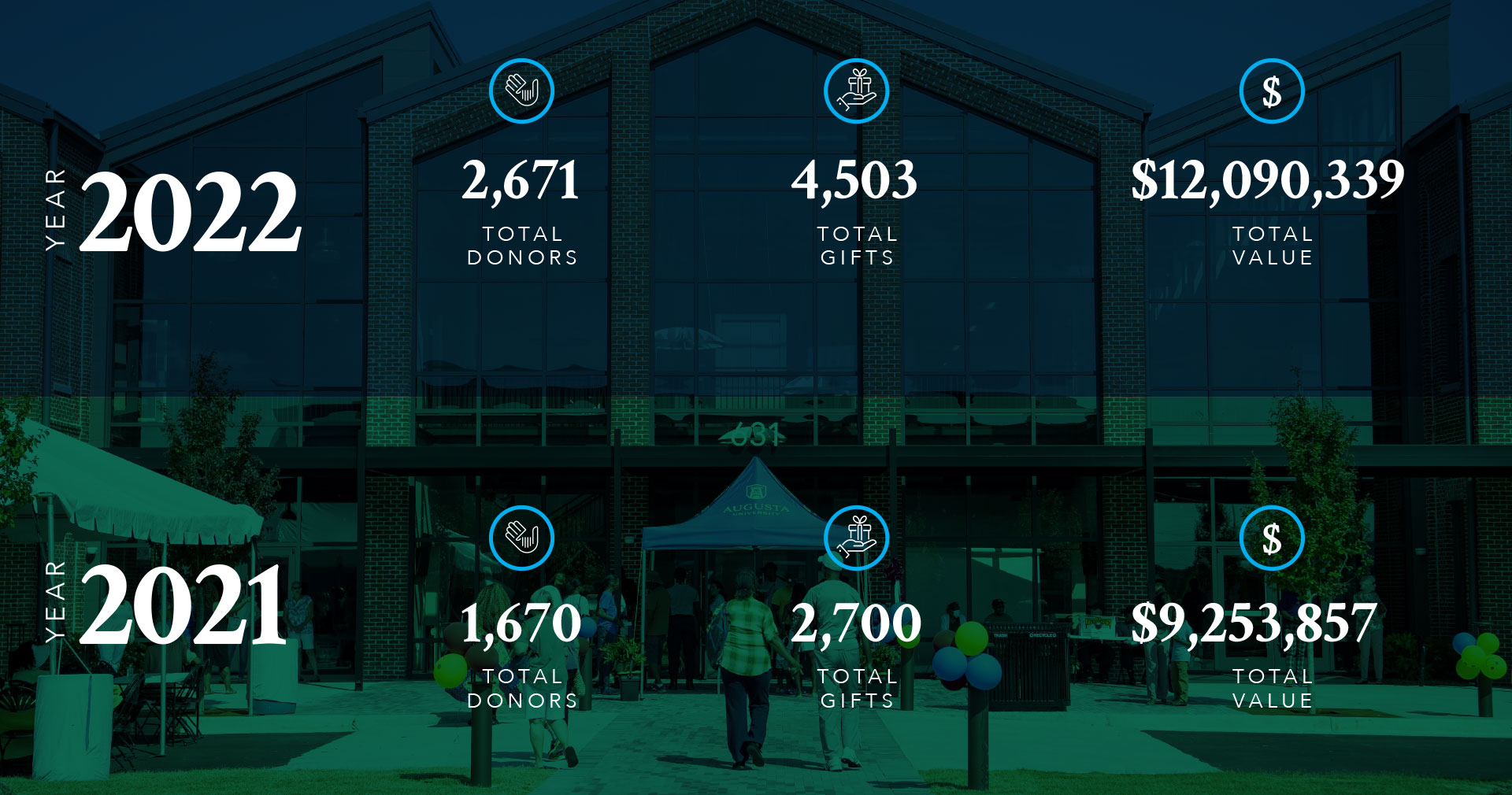 FISCAL YEAR 2022 MARKET OVERVIEW
In many ways, fiscal year 2022 was a tale of two halves. The first half saw a rebound of economic growth, inflows into equity and fixed income markets, and stellar returns in risk assets. The second half of the fiscal year, on the other hand, saw rising levels of inflation, rising interest rates and record losses in capital markets. A weak macroeconomic backdrop was exacerbated by conflict in Russia and Ukraine, which ultimately led to an emerging European energy crisis. Despite the bleak economic environment, the Federal Reserve hiked interest rates by 0.75% for the first time since 1994 and, along with other central banks around the globe, remains focused on tightening monetary policies thereby prioritizing efforts to control inflation over risks of further economic weakness.
The result of these two differing halves of the fiscal year was unfortunate, with nearly all major market indices in negative territory. Global equity markets returned -15.8%, as measured by the MSCI All Country World Index, with U.S., developed and emerging markets indices all experiencing losses of more than – 10%. Global fixed income experienced unprecedented losses, returning -15.2% as measured by the Bloomberg Global Aggregate Bond Index. The sole bright spot in terms of index performance was commodities, with the Bloomberg Commodity index returning +24.3% for the fiscal year on the back of surging energy prices.

The Medical College of Georgia Foundation's portfolio (the "portfolio") finished the fiscal year ending June 30, 2022, at $290.6 million. Over the fiscal year, the portfolio returned -9.3%, well ahead of the policy benchmark return of -15.5%. While painful to experience negative returns, we are comforted by the portfolio's diversification, risk posture and active management, the combination of which resulted in over 6% of relative out performance for the fiscal year.
Endowment Balances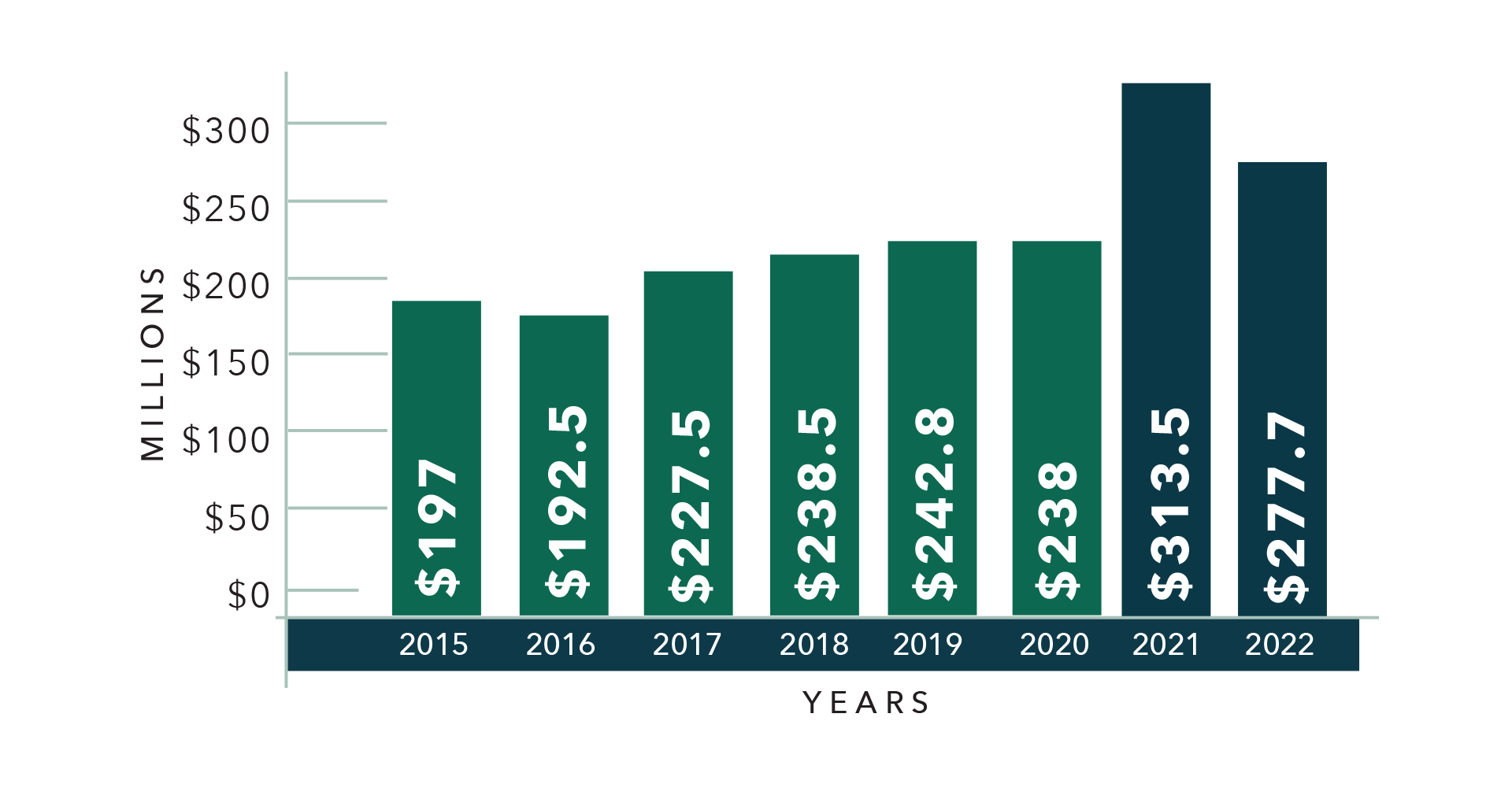 Looking Ahead
A myriad of challenges remain, including continued high inflation, rising interest rates, a slowing global economy, and geopolitical unrest. Markets are facing a generational regime change with key economic drivers reversing, moving from an era of low inflation, low interest rates and central bank easing, into an era of high inflation, high interest rates and central bank tightening. In our view, these shifts suggest more headwinds than tailwinds for asset prices, along with heightened market volatility.
We bear in mind, however, that market volatility can create opportunities, and are therefore excited about the changing environment. We have constructed the portfolio with a combination of varying asset types which serve differing roles in the portfolio, with an eye towards downside mitigation and capitalizing on opportunities.
At this juncture, we believe the core tenets of our investment approach matter more than ever: a focus on risk management, diversification, a global perspective, use of alternative investments and willingness to be contrarian. We are eager and ready to step into dislocated areas of the market. While we are cautious in the near-term, we continue to be focused on finding value and setting the stage for the long-term.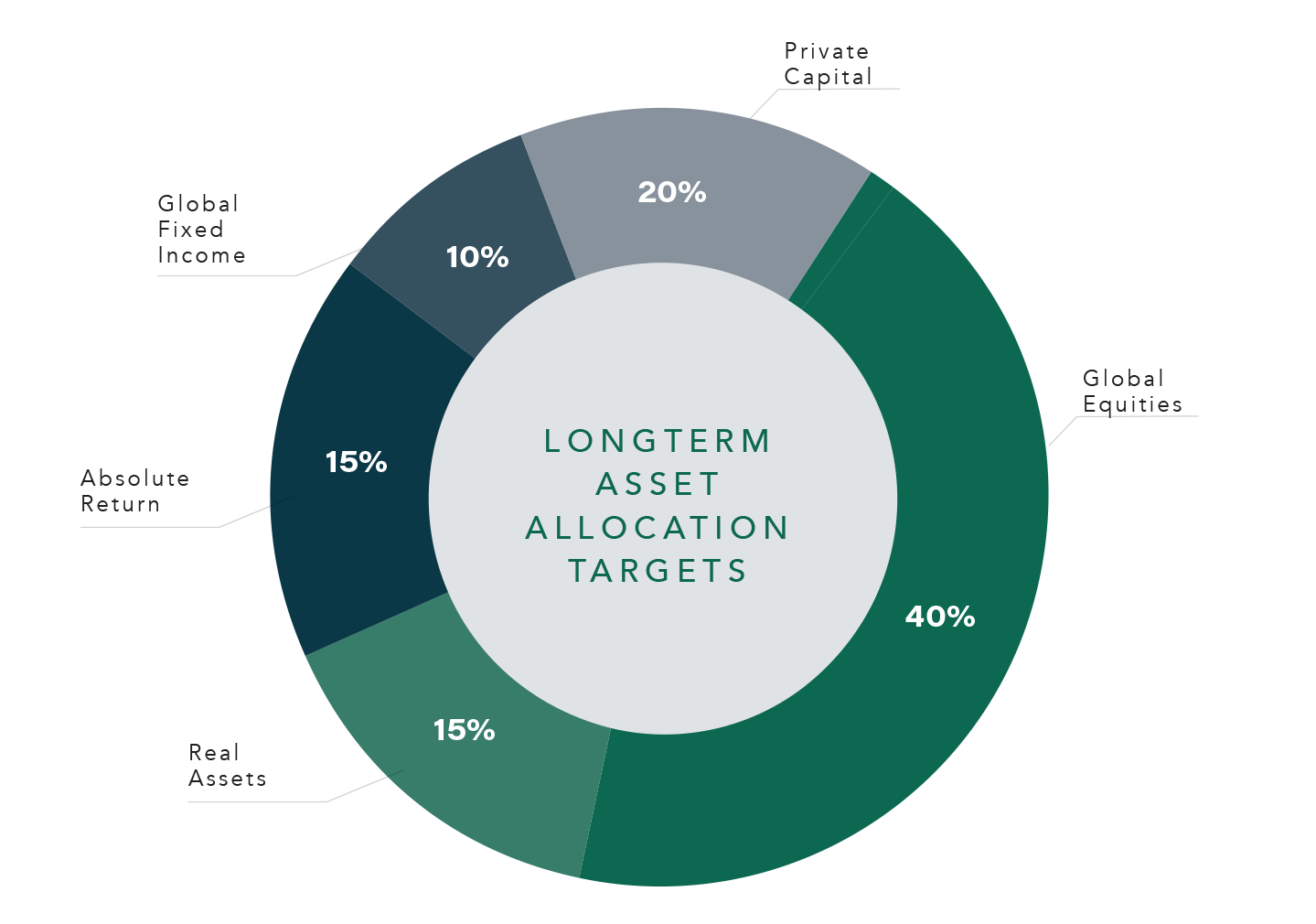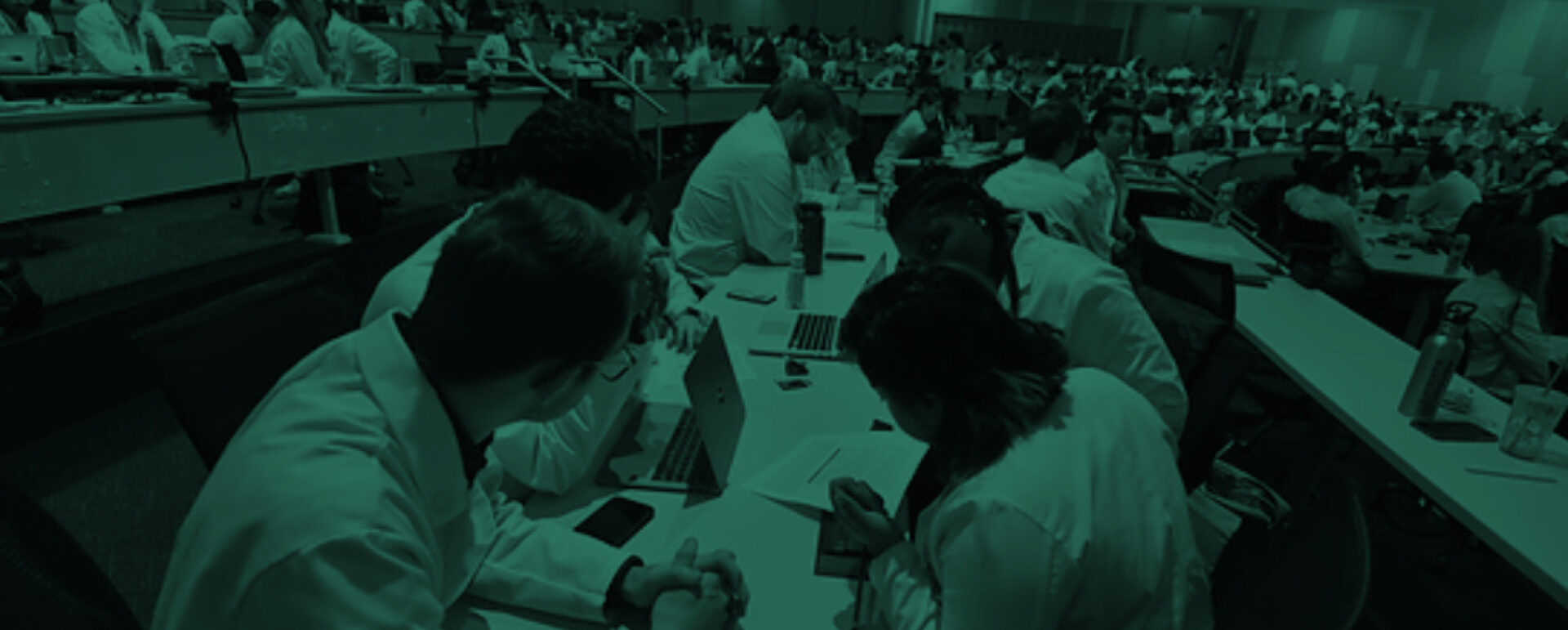 The Mission of the Medical College of Georgia Foundation is to improve the quality of life of the people of Georgia, the nation, and the world by supporting the advancement of education, research, and patient care at the Medical College of Georgia.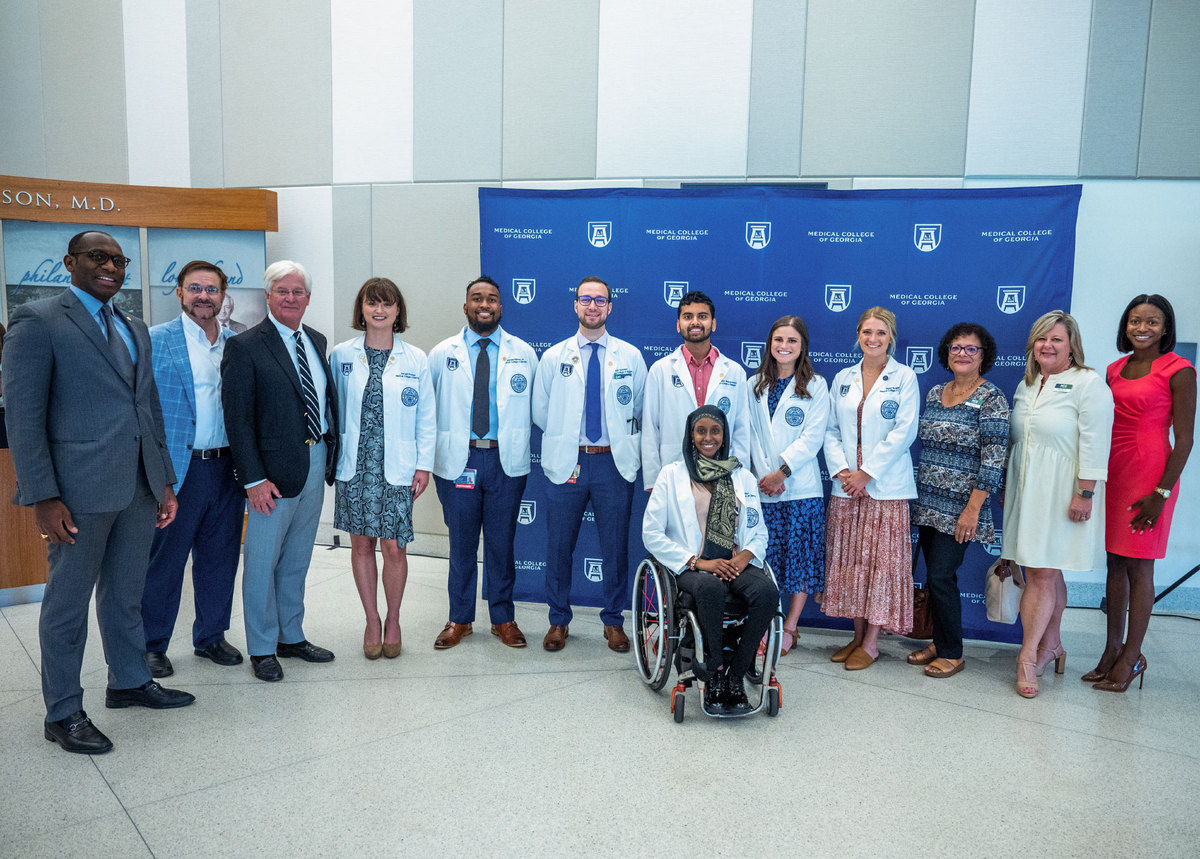 Representatives with the MCG Foundation and MCG 3+ donors are pictured with the second cohort of Peach State Scholars.
MCG primary care program receives $17.4 million boost.
The Medical College of Georgia Foundation designated $8.7 million in funding to match a new state appropriation to the Medical College of Georgia providing a combined $17.4 million for the MCG 3+ Primary Care Pathway Program aimed to increase primary care physicians for rural and underserved Georgia.
We are committed to serving the underserved," said Ian Mercier, president and CEO of the MCG Foundation. "The foundation wants to make an impact both locally and statewide and we believe that investing in the 3+ Primary Care Pathway Program is one way to make that impact. I am thankful to our state leaders, MCG Dean Dr. David Hess and other MCG leaders for their vision and leadership and in a program that will truly make a difference in the lives of so many. I am also thankful to MCG donors, without whom gifts like these would not be possible."
The MCG 3+ Primary Care Pathway Program allows medical students who commit to primary care practice in rural or underserved Georgia to become doctors in three years (instead of four) and immediately enter a residency in Georgia in either family medicine, internal medicine, pediatrics, psychiatry, emergency medicine, obstetrics and gynecology, or general surgery. In exchange for their commitment, those students will receive a scholarship to cover their tuition, enabled by funds from the support of donors and the state.
Georgia counties need doctors
8 have no physicians
11 lack family medicine doctors
37 lack an internist
75 have no OB/GYNs
78 lack a general surgeon
54 lack ER doctors
85 have no psychiatrist
According to the Georgia Board of Health Care Workforce.
In the 2022 Georgia legislative session, the General Assembly, with the support of Governor Brian Kemp, allocated $8.7 million in state funding toward the program, the state's second MCG 3+ investment.
"Since day one of my administration, we've recognized a need for and worked to strengthen Georgia's nursing and physician pipeline, especially in rural Georgia," Governor Kemp said. "Investments in programs like the MCG 3+ Primary Care Pathway help us toward our goal of building a safer, stronger and healthier Georgia, and we are grateful that the Medical College of Georgia Foundation has generously chosen to match these funds and support this critical need."
Last year, the legislature and the governor provided $5.2 million for the program, matching a generous gift from Peach State Health Plan that kickstarted the initiative.
"With these investments, we are able to do the exact thing you would expect the state's public medical school to do, and that is to provide physicians for rural and underserved areas in Georgia," said Augusta  University President Brooks A. Keel. "I am incredibly excited about the leadership and the vision of our colleagues in the medical college and the continued support of our state leaders. These critical funds will help provide scholarships for the medical students who commit to practice frontline medicine in areas where the need for physicians is the greatest."
"I am immensely thankful to Governor Kemp and the Georgia Legislature for their continued support of this important program and for further ensuring that all Georgians have access to quality primary care, no matter their ZIP code," said MCG Dean Dr. David Hess. "As the state's only public medical school, it is our responsibility and our privilege to help ensure the health of Georgia's citizens and communities."
Like much of the nation, Georgia is facing a growing physician crisis. According to the Association of American Medical Colleges, the projected shortage of between 46,900 and 121,900 physicians by 2032 includes both primary care (between 21,100 and 55,200) and specialty care (between 24,800 and 65,800) — a problem that will only worsen as the country's population ages and more physicians reach retirement age.
The first cohort of eight students were selected from among students already at MCG in June 2020. They will graduate and enter a primary care residency in Georgia in 2023. A new cohort was selected in August 2022.
MCG 3+ Primary Care Pathway Program Donors
Centene/Peach State Health Plan
Hearst Foundations
Georgia Community Foundation
Dr. Yekeen Aderibigbe and Earlie Dee Rockette-Aderibigbe, MSC, EdD
Dr. Thomas "Tom" Jr. (MD '01) and Julie Bradbury
Dr. James (MD '08) and Amelia Callaway
Dr. John Darden, (MD '71)
Dr. J. Roy Rowland, (MD '52)*
Dr. George (MD '55) and Martha Sessions
Dr. George Snelling
Dr. Matthew (MD '06) and Brooklyn Thom
*Deceased
Retired heart doctor creates cardiology education fund
Dr. Gordon Miller is a lifelong learner. His path to knowledge and education — and, in his case, the attraction to study cardiology — dates to the early 20th century, when his maternal grandfather Dr. Gordon Chason practiced surgery and medicine from 1900 to 1950.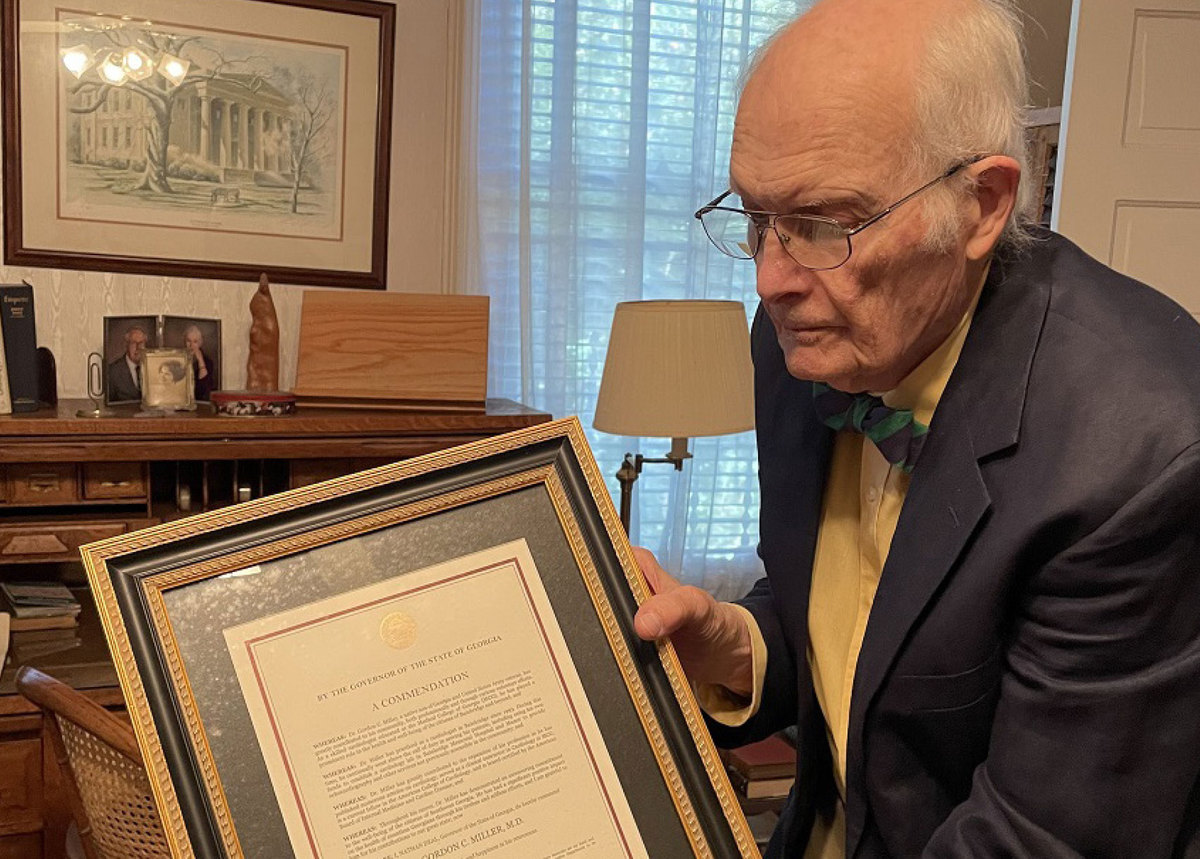 As a child, Miller would browse his grandfather's medical books, and the pages therein sparked an interest that would last a lifetime. In fact, Miller, who was named for his grandfather, said he decided in fourth grade that he wanted to be a doctor, and he never veered from that arduous path.
After graduating from the Medical College of Georgia in 1962, Miller completed an internal medicine residency at Tulane and Charity Hospital in New Orleans. During his last year of residency, the chief of medicine, Dr. George Burch, asked him to participate in some of his research projects. This led to a fellowship studying the reaction of heart failure patients in hot and humid climates.
After two years in the Army at Fort Gordon as an internist and cardiologist (1969-70), Miller completed a cardiology fellowship at MCG. Subsequently, he opened the cardiac lab at St. Francis Hospital in Columbus, Georgia, and participated in initiating a cardiac surgery service with a former acquaintance from Charity Hospital, Dr. Philip Brewer.
"At this time, cardiac subspecialties were evolving and included angiography, angioplasty, adult and pediatric echocardiography, and electrophysiology, and meeting a patient's needs drove one to keep up," recalled Miller.
After a 22-year career in Columbus, Miller returned to Bainbridge, Georgia, and practiced another 23 years, serving several generations of families.
When Miller retired in 2015 at age 80, he received an official commendation from then Gov. Nathan Deal. The formal document, framed in his home office, cites, "Dr. Miller has demonstrated an unwavering commitment to the well-being of the citizens of Southwest Georgia." It also affirms his passion for cardiology and for his patients: "Whereas Dr. Miller continually went above the call of duty in serving his patients."
Miller's commitment to and enthusiasm for knowledge is reflected in his $250,000 gift to the Medical College of Georgia to establish the Gordon Chason Miller, M.D. Cardiology Education Fund.
"The priority should be the unlimited transmission of knowledge and clinical skills," said Miller, explaining that cardiology education includes more than just teaching basic clinical skills such as assessing medical history and conducting a physical exam. It also involves training in diagnostic imaging of the heart, such as CT coronary angiography, cardiac MRI and echocardiography. Miller said funds used from his gift should enhance patient care.
Miller decided to make a significant gift to MCG after receiving a letter from noted cardiologist and colleague Dr. Spencer King that encouraged fellow cardiologists to contribute to the state's only public medical school.
MCG Chief of Cardiology Dr. Neal Weintraub said that Dr. Miller is a remarkable physician who has devoted his whole life to helping others.
"Dr. Miller serves as a shining example to our trainees, and his gift will help us advance our educational mission throughout the state of Georgia," Weintraub said. "Furthermore, his understanding of the need to train today's physicians and health care workers, particularly those serving rural communities, is reflective of his personal commitment to education and training and his deep and abiding devotion to the highest tenets of practicing medicine."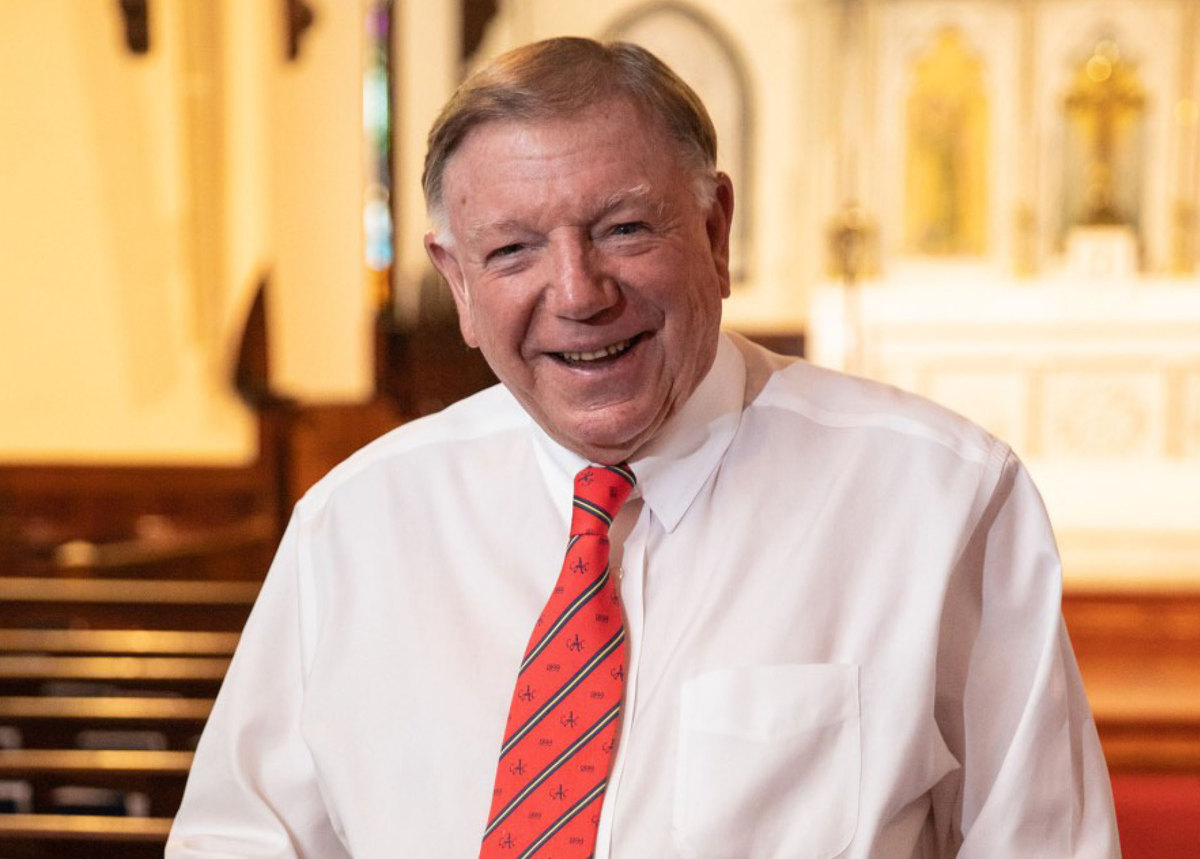 Dr. Talmadge "Joe" Bowden had a unique dream for his life.
I wanted to fly jet airplanes in the United States Air Force during war time," he said. "I was coming up as Vietnam was heating up. My father was career Air Force, and I'd already been accepted to pilot school when I graduated and commissioned."
Then Bowden was accepted to medical school and had to make a decision.
He chose medicine, and after many decades of practice, Bowden is giving the Medical College of Georgia a generous donation and future estate gift totaling $1 million to create the Talmadge A. "Joe" Bowden Jr., MD, Distinguished Chair in Surgery.
Bowden's long history with MCG began when he earned his medical degree in 1966. He interned at University Hospital (now Piedmont) in 1967 and returned to MCG to complete his residency in 1971 at Eugene Talmadge Memorial Hospital (now Augusta University Medical Center).
Bowden might downplay his time at MCG or how he arrived in medical school (his college roommate Leslie Wilkes talked him into it). But he speaks highly of his mentors, colleagues and lessons learned while there.
The late Dr. Bob Parrish, a former chief of pediatric surgery, was one of them. "He established the department of pediatric surgery all by himself," Bowden explained. "As a mentor, he was gruff. He had that raw edge, but when it came to those babies, he was 100% on board. He was so committed to the care of those children. And he mentored us by trusting us."
Bowden and Parrish would later become friends and, oddly enough, the hands that wielded scalpels in the operating room, began utilizing instruments of another kind as bandmates in Code 99, a Dixieland jazz band made up of physicians and other associates of MCG. Bowden would play drums for the band for the next 46 years.
After his residency, Bowden did serve briefly in the Air Force (1971-1973), but not as a pilot. His second choice would have been a war surgeon in the field. Instead, Maj. Bowden was the chief of the Division of General Surgery at the U.S. Air Force Regional Hospital at Shaw Air Force Base in South Carolina.
Bowden returned to MCG as a faculty member, serving as a professor of medical ethics, and later became chief of gastrointestinal surgery and surgical endoscopy. During that time, he led the fundraising efforts to establish the Moretz /Mansberger Distinguished Chair in Surgery, a tribute to another of his mentors, the late Dr. William H. Moretz, chair of Surgery from 1955-72 and MCG's fourth president, and his successor, the late Dr. Arlie Mansberger, MCG professor and chair of Surgery for 18 years. Bowden and several contemporaries also started the Moretz Surgical Society at MCG in honor of "the quintessential gentleman" whom they called "the big knife."
Just as Moretz and Parrish helped shape Bowden's medical career, Bowden's influence as a professor and surgeon touched many lives.
"He was a great person, he was a great teacher, and he was a great surgeon," said Dr. Charles Howell, Chair Emeritus and Professor Emeritus of Surgery and Pediatrics at Augusta University. "He was instrumental in helping train people who practice all over the state of Georgia and the Southeast."
At age 60 Bowden felt called into the ministry. After graduating from University of the South's School of Theology in Sewanee, Tennessee, he was ordained as a priest at Church of the Good Shepherd in Augusta, where the Rev. Bowden still serves as an assisting priest for this Episcopal congregation.
Even though Bowden originally wanted to fly fighter jets in the war, he speaks as a man with few regrets. "The fact that I was here (at MCG) was a rare privilege," Bowden said. "To this day, I have no idea how I got into medical school, but I appreciated being accepted and being here."
"I could have been an ace, or I could have been a four-star general," he ruminated before adding, "I ended up where I was meant to be. It's been a great, great ride."